Asian-related research is complex and requires uncommon resources:  As the Asian presence in the U.S. continues to grow, the demand for market intelligence is growing as well.  Rincón & Associates is one of the few research firms in the U.S., and the only one in Texas, that has earned a reputation for conducting quality research with Asian populations.  Conducting research with Asian consumers is a complicated process, requiring considerable training, experience, staffing, and technical resources that can support quantitative and qualitative studies. Most research providers in the U.S. do not have these capabilities and often out-source studies of Asian consumers to research providers in countries outside of the U.S.  How have we earned our reputation? In three ways: (a) documenting the Asian market growth and opportunities, (b) providing the right resources and talent, and (c) conducting research in Asian communities, both domestic and international,  for a variety of industries.
The growing Asian presence:  In a recent report issued by the U.S. Census Bureau, we learned of a historical shift in the presence of Asians in the U.S.  We are told that for the first time in history, the number of immigrants from China exceeded the number of immigrants from Mexico. The report analyzed immigration levels for the period 2000 to 2013 and showed that the level of immigrants to the U.S. from Mexico declined significantly from 400,000 to 125,000 during this period.  Secondly, in 2013 there were more immigrants to the U.S. from China (147,000) and India (129,000) than Mexico (125,000).  Not everyone, however, recognizes the significance of this dramatic demographic shift.
There are few research providers in the U.S. that are capable of conducting studies of Asian consumers. The few that have this capability are usually found on the West and East coasts, a pattern that is also true of advertising and public relations firms – a likely outcome of the current concentrations of Asians in these areas. In addition, academic institutions have dedicated minimal effort towards including Asian-related coursework that would prepare its graduates with the relevant marketing and research skills to work in Asian communities. Asians, however, are growing rapidly in other parts of the U.S., especially in Texas (see table below). In 2015, Asians numbered 500,359 in the Houston metro area and 451,657 in the Dallas/Fort Worth-Arlington metro area.  The Asian population in the Dallas/Fort Worth-Arlington metro area – now the ninth largest Asian metro in the U.S. — consisted of five subgroups: Asian Indian (35.9%), Vietnamese (18.4%), Chinese (12.0%), Filipino (7.3%), and Korean (5.9%).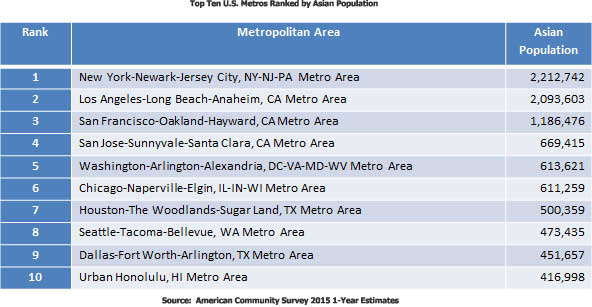 Communities throughout the U.S. are recognizing the increasing presence of Asians in their neighborhoods, while companies that produce goods and services are realizing that traditional marketing and communications models need to be adapted if they expect to meet the needs of this growing consumer segment.  As shown in the following sections, our Asian consulting team recognized these market opportunities many years ago and has accumulated the technical resources, research experience, and talent to serve the needs of companies that seek to target their products or services to Asian communities.
The Rincón & Associates Solution:  At Rincón & Associates, we have the resources required to facilitate the execution of Asian-targeted studies.  For example, we have:
Credentialed experts that have studied Asian populations over the past two decades;
The survey software and technical capabilities to support the most common Asian languages;
Multilingual interviewers to conduct surveys in English and Asian languages like Mandarin, Vietnamese, and Korean;
Professionals with the knowledge and experience in designing and executing studies of Asian consumers;
The track record in conducting studies of Asian consumers for major academic, private and public organizations; and
Relationships with Asian business, civic, academic, and community organizations that can facilitate the execution of studies in Asian communities.
Research Studies Involving Asian Consumers
A Major U.S. International Airport: Conducted ethnographic research of Chinese airline passengers arriving from two Chinese cities to evaluate their experience in navigating through the airport. Observations and in-depth ethnographic interviews were conducted in Mandarin with these passengers.
A National Telecommunications Company: Conducted a market demand study of a Chinese bilingual yellow page publication in the New York-New Jersey area using telephone surveys in Mandarin and English with Chinese residents.
Health Watch 2009: Conducted a health-related consumer survey of Dallas County adults, which included racially-diverse sample of 600 Latinos, 400 African Americans, 300 whites, and 400 Asians. Interviews with Asians were conducted in in Chinese, Korean, and Vietnamese.
DFW Multicultural Trendline Study 2008: Syndicated study sponsored by Rincon & Associates that evaluated the consumer behavior of Dallas/Ft. Worth multicultural consumers and conducted in English, Spanish, Chinese Mandarin, Korean and Vietnamese languages.  This was the first study to address the consumer behavior of Asians residing in the DFW metro area and provided a roadmap to the marketing community for reaching these segments of consumers.
National Study of Multicultural New Vehicle Buyers: National automotive study that utilized our SERENITY® multi-modal, multi-lingual survey response system and included a national sample of thousands of multicultural consumers. Study included several thousand Asians who were interviewed in English, Chinese Mandarin, Korean and Vietnamese.
A Major Telecommunications Company: Focus groups with Asians, Blacks, Latinos, and whites residents in Seattle, WA that addressed community race relations and technology issues.
Global High Technology Company: Used quantitative and qualitative methods to evaluate the company's corporate image among the racially diverse residents in a major metro area. Asian business and civic leaders were included in focus groups and surveys.
Carpet Manufacturer: Focus groups conducted with Vietnamese and Latino carpet installers (in-language) to evaluate the challenges faced in installing carpet.
Litigation Consulting:  Conducted experimental research for a product liability case to evaluate the comprehension levels of various hazard warning labels in laundry equipment among Korean and African American women.
Applied Ethnographic Studies of Special Asian Populations
National Geographic Magazine Project: Qualitative study of cultural navigation among Chinese and Uyghur Turkic Muslims in Xinjiang, China through personal interviews with and participant observation and analysis of local people and government officials.
Israeli irrigation technology project: Qualitative and quantitative study of how and where to introduce and adapt Israeli technology to Chinese production factories and install it among Turkic farmers in China's deserts. Involved studies of consumer environments, concept testing, user experience, consumer motivations, and how to increase competitive advantage over other like global irrigation firms.
Chinese government Hebrew Language program: Qualitative research and applied implementation to create and staff China's first Hebrew language program, at Beijing University, that trained Chinese diplomats seven years before the establishment of diplomatic relations between China and Israel. This involved studies of motivations of diplomats, user experience with teaching materials and instruction, and new product development of texts .
Asian-Related Publications
Rincon, Edward T. Dallas/Fort Worth Asian Snapshot: A narrated Power Point presentation that describes the Dallas/Ft. Worth Asian business firms and consumers.  https://www.youtube.com/watch?v=D8kkAfAbt44
Rincon, Edward T. "Asian Growth is Hot in Dallas/Fort Worth." Dallas Asian, Dallas Convention and Visitors Bureau, 2010.
Rudelson, Justin. (2002) Mandarin Phrasebook and Phone App; along with Travel Talk Chinese Mandarin (Audiobook), Melbourne, Australia: Lonely Planet Publications.
Rudelson, Justin. (1997) Oasis Identities: Uyghur Nationalism Along China's Silk Road, New York: Columbia University Press.
AA Schlegel, Justin Rudelson, PU Tse, (2012) "White Matter Structure Changes as Adults Learn a Second language (Mandarin Chinese)." Journal of Cognitive Neuroscience MIT.
Rudelson, Justin. Mandarin to English translator of the book, (2016-17) "The Ward 93 Miracle: Dora;s Life Gift to the World," by Su Huei-Jiuan, the story of the Nobel Prize nominated Love Life Empathy Movement in Taiwan (in progress)
Rudelson, Justin. (1985) "Introduction of Israeli Drip Irrigation Technologies in Xinjiang, China among Uighur Agriculturalists," Conference presentation in Mandarin, Chinese Academy of Sciences, Urumchi.
Rudelson, Justin. (1998) "Anthropology of Central Asian Business Success," Invited Lecture, Asia Society, Melbourne, Australia.
Rudelson, Justin. (2009) "Escaping Sadness: China's 2000-year legacy of Manic-Depression and Suicide and its Impact on China Today," Conference presentation, Yale University.
Meet the Rincón & Associates Asian Consulting Team
When conducting research in Asian communities, you need to have confidence that the research team will guide you through the successful completion of your study objectives with a minimum of trial and error.  The credentials and experience of our research team members provides this level of confidence as you will readily observe from the following descriptions:
Edward T. Rincón, Ph.D, President.:  Dr. Rincón is a research psychologist who earned a master's and doctorate degrees from The University of Texas at Austin. His training focused on survey and experimental research, psychometrics, statistical analysis and program evaluation.  He has taught college-level courses on Hispanic marketing, survey research methods, mass communications research, and statistics. In his role as President of Rincón & Associates LLC, he has designed and executed numerous projects that included multicultural consumers for academic, public and private organizations.  His Asian-specific experiences have included Chinese, Vietnamese, Korean, and Asian Indian consumers in various industries. Dr. Rincón is proficient in both English and Spanish languages.
Justin Rudelson, Ph.D., Director of Asian Consulting Division.:  Dr. Rudelson is a Psychological Anthropologist and Chinese language expert who earned his B.A. in Asian Studies from Dartmouth College, and his master's and doctorate degrees in Anthropology from Harvard University focused on China's Silk Road region.  He is currently an Adjunct Professor at SMU, formerly taught Chinese language and Asian Studies at Dartmouth College, and has taught at Tulane, Johns Hopkins, University of Maryland, Beijing University of Posts and Telecommunications, Beijing Normal University, and the Chinese Academy of Sciences.  He has provided cultural and strategic analysis to help businesses and organizations better interact, engage and innovate in the United States and in China, Taiwan, Hong Kong, Japan, Central Asia, and Israel. He has envisioned and implemented projects in business, health, education, and agricultural development.  Following are courses taught by Dr. Rudelson:
Asians as Minorities: A Global Perspective
Soul Loss and Madness: Mental Health in Asia
Contemporary East Asia
Identity in Modern China
Beijing: From Imperial Capital to Post-Olympic City
The Silk Road
Dr. Rudelson has command of such languages as Mandarin, Cantonese, Uyghur, Japanese, Russian, and Hebrew.  He also has a working knowledge of French, Spanish, Swedish, Turkish, Kazakh, Uzbek, Farsi, Urdu, and Arabic.
Wenyu Zhao, MBA, Chinese Moderator:  Wenyu earned her MBA from Brandeis University International Business School in 2006. She is a native of China and proficient in Mandarin and English. In her professional experience, she has worked as a marketing manager and market researcher for sales and manufacturing companies in the U.S. and China. She is responsible for both qualitative and quantitative studies with Chinese consumers.
Thao Bui, MPH, Vietnamese Moderator:  Thao earned her Master's in Public Health from Mount Sinai School of Medicine in 2011.  She is a native of Vietnam and fluent in both English and Vietnamese languages.  Her professional experience includes qualitative and quantitative studies in public health and other organizations.
Bodhini Jarasuriya, Ph.D., Sampling Statistician:  Dr. Jayasuriya earned her doctorate in Statistics from Texas A & M University and a master's in Mathematics from Wayne State University. Surveys that require complex sample designs and weighting are easily accommodated by Dr. Jayasuriya, whose experience includes large-scale government surveys as well as various commercial projects with Rincón & Associates.  Dr. Jayasuriya is a native of Sri Lanka.  Following is a summary of her work experience:
12+ years experience in real-world application of statistical methodology including management of personnel engaged in same work
Designed and implemented complex sampling schemes for producing state based statistics for Texas Department of Health
Research, create, and implement prescription data based products for the pharmaceutical marketing industry
Researched and implemented improvements to on-going estimation processes of federal government surveys that produce national economic statistics
Experience working with large pharmaceutical market research database
Research expertise in areas of finite population sampling, generalized linear models, non-parametric regression
Extensive graduate coursework including design of experiments, stochastic processes, operations research, multivariate analysis
Dissertation research in the area of non-parametric regression
Highly proficient in SAS, SPLUS, SUDAAN (PC, Main Frame, UNIX Environments)
Applied and Theoretical publications in non-parametric regression and finite population sampling
 Our Consulting Services for Asian Projects
Demographic Analysis:  Using the latest Census Bureau files, we can prepare a demographic analysis of U.S. Asians that displays their key characteristics, such as nativity (native vs. foreign-born), age, gender, income (household, aggregate, per capita), marital status, multi-generational status, health insurance coverage, English-language proficiency, and others.  These characteristics can be provided for most levels of U.S. geography:  national, state, metro, county, and city levels.  A demographic snapshot of Asians is a recommended first step in the planning of a research study of Asian communities. Click on this link to view our Asian County Profile™  that provides key information about U.S. Asians for all counties in the U.S.
Quantitative Research:  We support various types of quantitative studies, including mail, telephone, and online surveys; personal interviews; and the large audience format.  Our patent-pending SERENITY® survey response system has been used successfully in several studies that included Asian consumers. This innovative methodology, developed by Dr. Rincón, improves data quality, response rates, and demographic diversity by providing multiple modes and languages to complete surveys.
Qualitative Research:  When an in-depth understanding of human behavior is needed, we will provide clients the option of focus groups, ethnographic observations, or in-depth personal interviews. We arrange all of the logistics for these studies, whether they are domestic or international studies. When a qualitative study is conducted in natural settings (i.e., work, home, while shopping), we have the audio-video equipment and online technology to record the research sessions with the respondents.  When travel expenses or schedules pose a barrier, we can utilize online focus group or interviews to get the job done. We currently have moderators that can support three languages:  English, Spanish, and Chinese Mandarin.
Consumer Ethnography:   Consumer ethnography provides in-depth insights into the lives and events of consumers that impact consumer decision-making. It enriches the picture captured by surveys and statistics by observing the differences between what people say they do and their actual consumer behavior.  Consumer ethnography focuses on the overarching life situation of the consumer, understanding their lives sometimes even better than they understand themselves. Consumer ethnography observes consumer environments and consumer motivations to inform such issues as concept testing and new product development, user experience, and increasing competitive advantage. These insights enlighten and broaden a company's vision and spectrum of services that earn consumer trust and loyalty.
Translation Support:  We provide support for translation of documents in such languages as English, Spanish, Mandarin, Vietnamese and Korean. Our translation support is limited to documents that are used during a research study, such as questionnaires, discussion guides, exhibits, and transcripts.  We can also serve as an objective third-party evaluator of documents that have been translated into these languages.
Training Seminars for Executives:  Executives who are initiating Asian-targeted marketing programs will benefit from seminars that provide insight into Asian cultural nuances that could influence the success of their initiatives.  To facilitate a successful experience, our experts can design a seminar that will provide the necessary "cultural intelligence" to your company's executives.
Cross Cultural and Organizational Analysis:   Cross-cultural and organizational analysis provides insights to companies on ways to modify their management styles, marketing, and communications to fit the cultures in which they, their customers, and partners operate.  Our experts can assist companies to successfully understand and navigate cultural obstacles and challenges they face in multicultural domestic and international business environments. In the Asian multicultural context, these can include personal influence networks (guanxi), face, interpersonal harmony, along with cultural variations in negotiating behavior, temporal orientation, and performance management.
White Papers:  We can enhance your understanding of a specific topic or issue related to the Asian culture by conducting a literature review, analyzing secondary sources, and producing a white paper that summarizes the results of our analysis along with recommendations for decision making.
A Second Opinion:  On occasion, organizations invest a lot of time and money in high-stakes studies which may require additional review.  This may be particularly true of studies involving Asian consumers where the level of knowledge and expertise among executives and staff is minimal.  We can provide the needed "second opinion" by conducting a thorough review of the research report in order to identify its strengths and weakness, and potential biases that could limit its application and usefulness for organizational decision making.
Rincón & Associates Publications on Dallas/Ft. Worth Asian Population
Recent Dallas Morning News Articles on Asian Growth and Influence in Dallas
Asian Business Organizations in Dallas Area
Asian Professional Exchange (APEX) Dallas
http://www.apexdallas.org  
Association of Chinese Professionals (ACP) Foundation
http://www.acpdfw.org 
Dallas Committee on Foreign Relations
http://www.dallascfr.org 
Dallas Japanese Association
http://www.godja.org
Greater Dallas Asian American Chamber of Commerce
http://www.gdaacc.com
Greater Dallas Indo-American Chamber of Commerce
 http://www.gdiacc.org
Greater Dallas Korean American Chamber of Commerce
http://www.koreanchamber.org
Richardson Chamber of Commerce
http://www.richardsonchamber.com/index.php?src=gendocs&ref=International
Taiwanese Chamber of Commerce of Dallas/Fort Worth
http://www.tccdfw.org
Thai Commerce Association
http://www.svvincent.com/thaica/
U.S.-China Chamber of Commerce of Dallas
http://www.uscccdallas.org
U.S.-Pan Asian American Chamber of Commerce Southwest Chapter
http://www.uspaacc-sw.org
World Affairs Council of Dallas/Fort Worth
http://www.dfwworld.org
---
Contacting Us:   To discuss a potential Asian-related project, call us at 214-750-3800.  Or complete our Request a Quote form by clicking here.