ABOUT THE STUDY
The Dallas/Fort Worth metropolitan area is experiencing a dramatic demographic transformation that can greatly influence your business goals. Of its 7.3 million residents, 31 percent or 2.2 million are Latino residents who have unique linguistic, communicative and consumption needs.  Does your marketing strategy include tactics for capturing this important segment of consumers? The Dallas/Fort Worth Latino Trendline Study was designed as a cost-effective, planning tool that can assist organizations in designing marketing plans to compete more effectively in the marketplace. Past study subscribers have used the study in the following ways:
Measure market potential, composition, and growth
Evaluate product acceptance & market share
Evaluate the competitive environment
Select the best language of communication
Design media plans based on local usage of radio, television, radio, newspapers, and social media
Select the best points of distribution for products or services
Obtain updated demographic & socioeconomic information
Include a custom question to test a new concept,  measure campaign progress or evaluate image and reputation.
 HOW THE STUDY WAS CONDUCTED
The sampling universe for the study consisted of all Latino telephone households in the Dallas/Fort Worth metro area. Both landline and cell phone households were contacted up to three times for participation in the study, and provided the choice of an English or Spanish-language option by a team of experience bilingual interviewers. A total of 500 interviews were completed during June 2016. The study was designed by Dr. Edward T.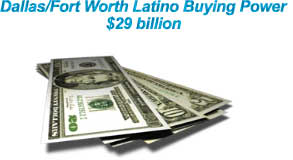 Rincon, President of Rincon & Associates LLC, who has specialized in multicultural research for the past 37 years and taught courses on survey research methods, Hispanic marketing, mass communications research, and statistics at universities like Southern Methodist University, University of North Texas at Denton, The University of Texas at Dallas, and The University of Texas at Arlington. Dr. Rincon is currently an Associate Scholar with the SMU Tower Center for Political Studies, a member of the American Association for Public Opinion Research (AAPOR), and a member of the Qualitative Research Consultants Association (QRCA).
WHAT THE STUDY MEASURED
Demographics: Gender, age, marital status, household size and composition, race/ethnicity, years of U.S. residency, country of birth, and language usage.
Socioeconomics: Educational attainment, employment status, household income, homeownership, and credit card usage.
Media Usage: Television, radio, newspapers, magazines, cable, Internet access & usage, social media.
Shopping Preferences:  Supermarkets, hospitals, emergency clinics, pharmacies, legal services, and entertainment venues
Attitudes: Consumer, familial, and cultural
Custom Questions & Analyses: Subscriber-designed questions that are tabulated by a customized banner; special analyses available on request.
For more information about the study or becoming a study subscriber, contact us at 214-750-3800.