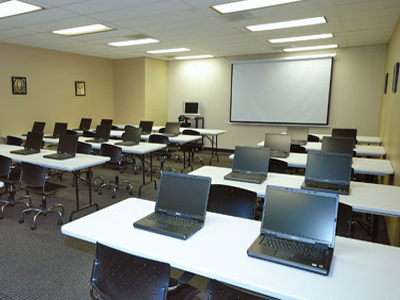 We offer intensive, one-day workshops where you will learn research and marketing skills that are in demand by many employers across the nation. Learn the art of designing effective questionnaires for Hispanic populations, how to analyze Census data, designing online surveys, planning and managing focus groups, how to design surveys for diverse audiences, data analysis with SPSS, designing statistical charts and graphs, and the principles of Hispanic marketing. The skills that you develop will enhance your value to your current employer while business owners or managers will learn how to improve the productivity of their workforce.
Intensive, Small Group Instruction: Class sizes are designed to maximize skill development and interaction with the workshop instructor. Attendees are required to complete exercises in class to reinforce learning of the concepts. Workbooks are also provided that include the lecture slides, exercises and reference materials.
Experienced Presenter: The workshops are conducted by Dr. Edward T. Rincon, who has designed and conducted research studies of diverse audiences over the past 35 years. He has taught Mass Communications Research at The University of North Texas – Denton, Survey Research Methods at UT Dallas, and Statistics and Hispanic Marketing at Southern Methodist University. Click here to view a bio for Dr. Rincon.
Workshop Location: We have a state-of-the-art training room that is equipped with wi-fi and audio-video equipment, and can accommodate up to 50 people. Training can also be arranged at a location of your choice.
WorkshopTopics
Designing Online Surveys
Designed for individuals who have some familiarity and experience with designing questionnaires, this workshop will take you through the steps of setting up a questionnaire on an online survey program for deployment on the Internet.
Planning & Managing Focus Group Projects
If you are planning to conduct a focus group project for your organization but have little or no knowledge about the steps or costs involved, you should plan to attend this workshop. In addition to reviewing key steps and costs, you will learn about places to search for focus group facilities and moderators, and problems you are likely to encounter.
Designing Surveys for Diverse Audiences
This workshop is designed for persons who have responsibility for conducting surveys but have not had sufficient training in the past to understand the various ways in which surveys can be biased with diverse audiences. The workshop topics will include the use of Census data to plan a study, sample design issues, data collection methods and related problems, data analytic issues, and problems related to inferences from survey data. We will review studies that utilize sound practices with multicultural audiences as well as studies with known biases.
Data Analysis with SPSS
SPSS is one of the standard tools in the research industry that is used to analyze data from surveys and experiments. Not knowing how to use SPSS can place you at a disadvantage in completing important assignments, whether in college or the workplace. In this six hour workshop, you will learn the basic functions of SPSS, how to enter or import data, file management techniques, recoding data, setting up variable and value labels, and running basic statistical procedures.
Designing Statistical Charts & Graphs for Reports
This workshop is designed for individuals who need to produce charts or graphs from quantitative data. Using Excel and Power Point, you will learn how to take sets of numbers and create colorful displays that communicate effectively to your audience. This workshop requires previous knowledge of basic statistical concepts, Excel or Power Point.
Principles of Hispanic Marketing
Before investing considerable time and money on a venture that is targeted to Hispanic consumers, a person would be well advised to learn some of the fundamental concepts about marketing and research principles to plan a more successful project. Topics covered will include key marketing steps, defining the target market, developing a positioning strategy, and general marketing tactics to reach the desired segment of Hispanics. Language and cultural issues will also be discussed.
Designing Effective Questionnaires for Hispanic Populations
This workshop is designed for individuals who have some familiarity or experience with designing questionnaires but need more advanced knowledge to improve the quality and response rates from Hispanic populations. You will learn how to avoid common pitfalls in designing questionnaires for Hispanic populations, how to plan a questionnaire to guide its overall logic, how to phrase questions and when to use different types of questions, how to design questionnaires that are compatible with Hispanic cultural nuances, and how to choose the best data collection method to improve Hispanic response rates and data quality
Retrieving and Analyzing Census Data
Despite an abundance of demographic information, many individuals are not aware or have difficulty retrieving information from the Census Bureau web site. This workshop will introduce participants to basic demographic concepts, steps for retrieving key demographic characteristics for different communities in the U.S., and how to interpret the information. As an exercise, each participant will produce a demographic profile of a defined community.
Other Course Topics:  We will be happy to design a course on a topic that is of interest to your organization.
CONTACT US
If you are interested in planning a workshop, call us at 214-800-2831 to discuss your training needs.