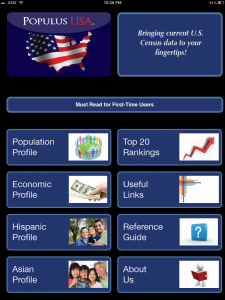 Populus USA® is an iPhone application designed by Rincón & Associates, LLC for users who need instant access to brief snapshots of the U.S. population based on race-ethnicity and income. Populus USA® brings the power of the U.S. Census Bureau data to your fingertips by providing easy access to the most recent Census population estimates at five levels of geography for areas with a population of 65,000 or higher. Users will find Populus USA® a valuable tool for understanding the race-ethnic makeup of the nation's communities, especially when access to a computer is limited or when navigating the Census Bureau web site is challenging.
Key Features:
All data is derived from the most credible source of U.S. population data – the U.S. Census Bureau – which conducts the American Community Survey every year.

Since the ACS data is updated annually, our updates will ensure that you will also have the most recent U.S. population estimates available. The 2011 file is currently available on Populus USA

®

, while the 2012 ACS will be added upon availability

Selected population and income data are provided for the total population and four race-ethnic groups: whites, African Americans, Asians, and Hispanics.

The population and income profiles are available for five geographic levels: U.S., 51 states, 504 metropolitan/micropolitan areas, 802 counties, and 525 cities/places.

A feature allows users to easily email the data tables for later review or printing.

A user guide helps you understand the demographic terminology used in the tables.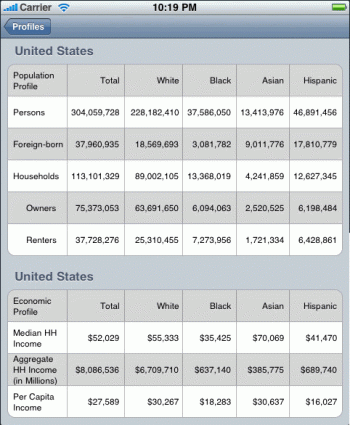 Populus USA® is available for purchase in the Apple Store for $8.99.
Populus USA® is not a product of or affiliated with Populous Holdings, Inc.