Many organizations representing a variety of industries have relied on our multicultural research expertise. Following is a sampling of these organizations.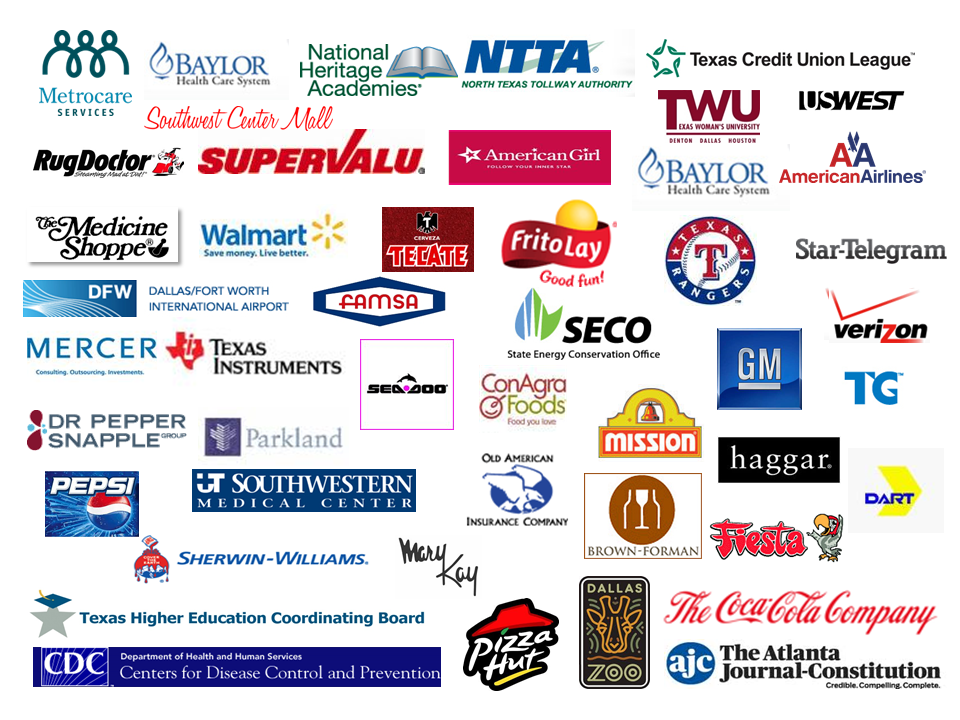 CLIENT EXPERIENCE BY INDUSTRY
Banking and Financial Services: Vision Prepaid, Comerica Bank, Bank One, Texas Credit Union League, Oregon Credit Union League, Bank One, Texaco Credit Union, Carrus Financial, Texas Guaranteed Student Loan Corporation, The Associates, Old American Insurance Services, Western Union, UBS Paine Webber, Consumer Credit Counseling Services, and Deloitte & Touche.
Manufacturing: Tecate, General Motors, Gruma Corporation, Jardine Foods, Wright Brand Foods, Brown-Forman Beverages Worldwide, Mrs Bairds, Coca Cola USA, Pepsi-Cola USA, Dr Pepper/Cadbury North America, Conagra Foods, Frito-Lay, Centex Homes, DuPont External Affairs, Mary Kay Cosmetics, Haggar Apparel, and Stroh's Brewery.
High Technology/Telecommunications: Texas Instruments, Verizon Information Services, SBC Communications, US West, and AT&T Wireless.
Transportation: North Texas Tollway Authority, DFW International Airport, American Airlines, Mexicana Airlines, PACE Transit (Chicago), and Dallas Area Rapid Transit.
Electronic and Print Media: Idearc Media, ABC, CBS, KERA Dallas, Hispanic Magazine, Dallas Morning News (Al Dia), WFAA-TV, Ft. Worth Star-Telegram (Diario La Estrella), El Sol de Texas, Paddock Publications (Reflejos), Atlanta Journal Constitution (Mundo Hispánico), and The Palm Beach Post (La Palma).
Health Care: Metrocare Services, UT Southwestern Medical School, Baylor Health Care System, Parkland Health & Hospital System, Children's Medical Center Dallas, Methodist Medical Center, Texas Health Resources, AmeriGroup Corporation, The Medicine Shoppe International, Kaiser-Permanente, ORC Macro (Center for Disease Control), and Key-Whitman Eye Center.
Political Behavior: Pete Sessions for Congress Campaign, Zan Holmes Mayoral Campaign, and Public Broadcasting Consortium Latino Poll 2000.
Entertainment: Dallas Zoo, Hispanic Book Club, Fiesta Texas, Texas Lottery, and Texas Historical Commission.
Sports: Texas Rangers, FC Dallas and Sea Doo.
Advertising and Public Relations: Latin Works, Zahra Design Group, Market Vision, DDB Needham, Kolar Advertising, Dieste Harmel & Partners, Moroch & Associates, Levenson & Hill, Conill Advertising, Berry-Brown Advertising, David Ball & Columbato/Ad Americas, Siboney USA, WING Latino, Temerlin-McClain, Hill & Knowlton Advertising, EnviroMedia, Burson-Marstellar Public Relations, and Read-Poland Public Relations.
Legal: Godwin Ronquillo Law Firm, Texas Against Censorship, Lieberman Research Worldwide, Weinstein & Associates, Trial Psychology Institute, Bob Abbott – Attorney, Brad Lollar – Attorney, Scott Craig – Attorney, David Vereeke – Attorney, and Bishop Payne Williams & Werley LLP.
Government: State Energy Conservation Office, Dallas Water Utilities, Texas Higher Education Coordinating Board, State of Texas Health & Human Services Department, City of Dallas, and North Carolina Library Association.
Retail: Southwest Center Mall, American Girl, RugDoctor, SUPERVALU, The Sherwin-Williams Company, Pizza Hut, Mnyard Food Stores, H.E. Butt Grocery Company, Mission Tortillas, Fiesta Mart, FAMSA of Mexico, Hollywood Video, Scotts Lawncare Products, Tosco/Circle K Marketing, Juana Gallo Restaurants, Albertsons, and Quintanilla Furniture.
Education: Texas Woman's University, National Heritage Academies, UNT Center for Spanish-Language Media, Eastfield College, Tyler Junior College, Dallas County Community College, UT Arlington/SMU Immigrant Poll, Dallas ISD, and Educational Testing Service.
Non-Profits: Fourth Partner Foundation, General Baptist Convention of Texas, Catholic Diocese of Dallas, Gaston Oaks Baptist Church, and National Latino Media Coalition.
Updated: 1-9-12